We coordinate your complete move with guaranteed completion dates.
A move is already stressful enough and requires perfect planning.
Our personal project manager, who will work with you to develop an optimal process tailored to your company, will enable you to look forward to your relocation day in a relaxed manner. Our company works with professionally trained employees on your relocation project. At Fuchs there are no untrained employees – a unique selling point that distinguishes our company. Our customers include both private sector and large-scale industries as well as the public sector.
What our clients say about Fuchs Relocations
The team at Fuchs Relocations is always ready to provide quick, competent and friendly support.

A great collaboration for many years – they can do it!
The services of Fuchs Relocations are characterized by an excellent price-performance ratio and for us at VERBUND this was also the basis for frequent commissioning.

I also made use of Fuchs Relocations several times in my personal area. In all of these orders, the professionalism, quality, punctuality and precision of the services were particularly excellent. Above all, the friendliness, speed and flexibility of the staff is impressive. Even complex tasks were always mastered to my complete satisfaction.
In all of our relocation and transport projects, whether it was the relocation of the headquarters with around 500 people or smaller archive relocations, the Fuchs company was at our side as a very competent partner. The humanity that was shown was impressive – from the company management to the employees.
Fuchs Relocations is a very reliable and long-standing partner of the EHL Immobilien Group.

The company is characterized above all by the extremely motivated and competent employees, who have consistently met our expectations 100% when moving over the past few years.
Clear contractual relationships, fair prices, absolute reliability and adherence to deadlines. We always move with Fuchs Relocations because we value reliability.
Spedition Fuchs is our long-standing and reliable logistics partner for relocations and removals of all kinds.

In previous orders, we were particularly satisfied with the quality and precision of the services and the professionalism of the staff.
Our industry, which is very close to the labor market, has been exposed to very high volatility in recent years. Accordingly, entire training locations are often relocated at very short notice.

Fuchs Relocations was and is always a flexible and reliable partner for us.
I have had only the best experience in office planning with Fuchs Relocations for over 20 years. An absolutely reliable partner.

Problems are solved, all deadlines and agreements are met.
We have been handling our relocation projects very successfully with Fuchs Relocations for years. Recently, the relocation from the old to the new office location for around 500 employees. Everything was perfectly organized, problem-solving and on schedule.

Based on our experience, we can only warmly recommend Fuchs Relocations as an extremely reliable and circumspect partner!
Also your opinion is important to us!
100% SERVICE means 100% SUCCESSFUL
Through continuous further training, the introduction of the most modern technology and the great variety of experience, we are one of the most innovative companies in our field. In addition, our adapted and certified process and project management enables us to conduct permanent research in our field. Thus, our customers benefit from special, unique material in the field of packaging technology to transport goods perfectly.
Our specialists combine top training with many years of experience.

Our state-of-the-art packaging technology ensures success

Our Fuchs Full Service offer ensures a stress-free move
Highest possible security for a damage-free move
The safe transport of your goods is our top priority. Our research and development department is always working on innovative packaging materials, for example:
various types of edge protection
moving boxes of all sizes
file container
professional upholstery (e.g. for IT equipment)
individually adapted packaging material
state-of-the-art transportation aids
Leave the packaging to us
Our specially trained specialists take care of packing, saving you time and nerves.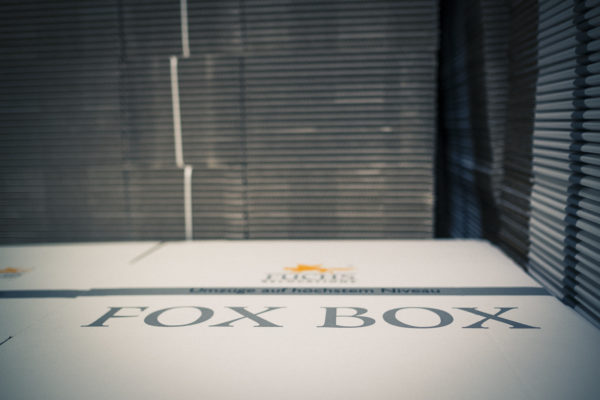 Safe, dry and easily accessible
Our storage facilities are all heated, dry, alarm protected and fire protected. We take care of the collection and professional storage of your items. You can access your goods quickly and easily. If required, we can also carry out onward transport and installation at your new business location.
Optimum storage for a wide range of goods
We store everything professionally, for example in our file archive. Perfect conditions for your goods!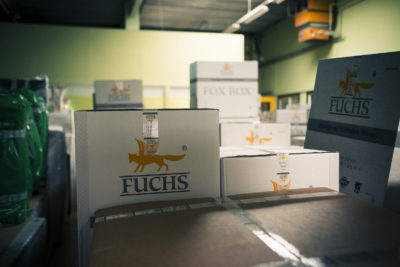 Your files stored optimally and securely
In the course of the time for most diverse reasons in each enterprise enormous amounts of files accumulate. Our custom-made file archives are the perfect solution:
clean
safe
cost-effective
ready to use in just one working days
individual concepts
Innovative file storage and comprehensive service
Thanks to our innovative methods, we store up to 120 commercially available A4 files on just one square metre. And after the deadline we will gladly take care of professional disposal.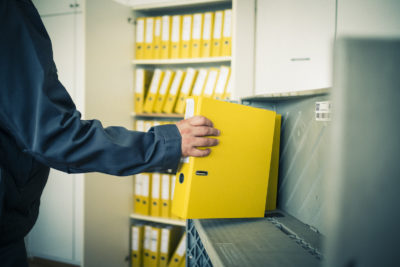 Whether furniture, EDP, metal or data – we dispose of professionally
Removal and disposal usually go hand in hand. We draw up a disposal plan and transport all marked items to our ISO-certified disposal partner, who disposes of them in an environmentally friendly and professional manner.
Disposal with proof
An important part of disposal and document destruction is the correct proof. We take care of professional disposal and destruction, including certification.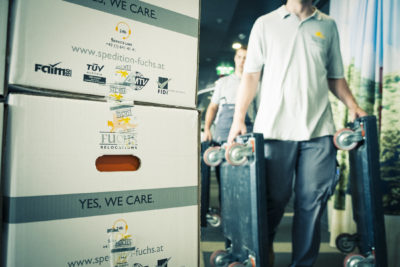 Routine relocation of special goods
Our relocation offer knows no borders, we also move special objects routinely and safely. There is nothing that we have not already transported:
pianos,
safes,
entire computing centers,
machinery,
and more.
Special treatment for special goods
Our team takes care of the transport by articulated lorry, the removal of extremely large parts, the delivery and assembly at the new destination with cranes as well as conversion measures.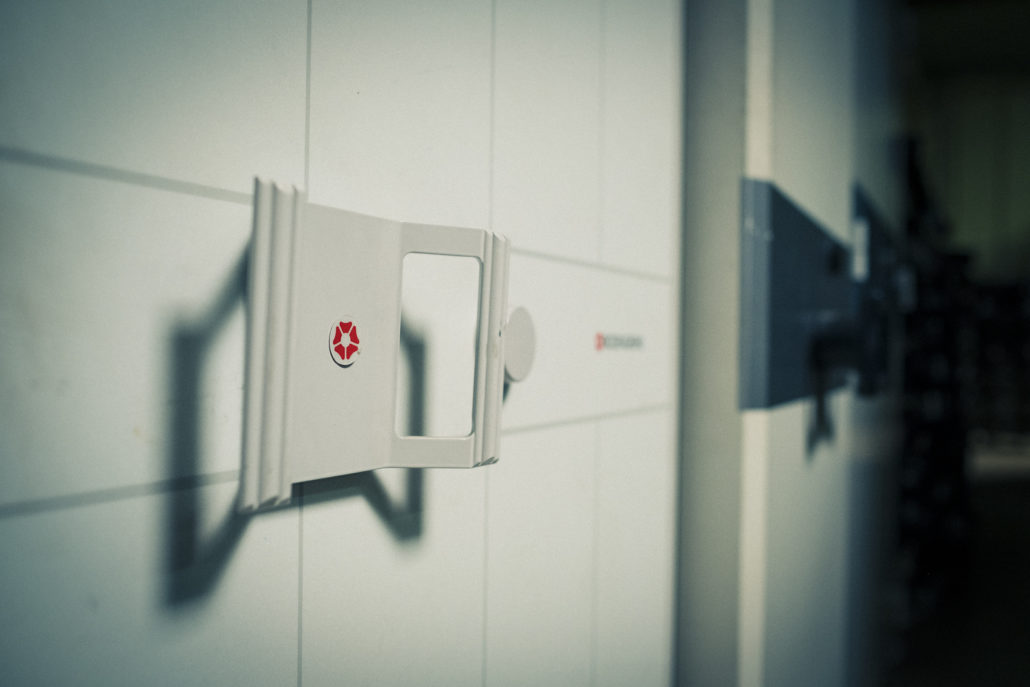 Safety is our top priority
We are aware of how much stress an international move causes. We guarantee the safe handling of your items, which you can receive on time and without damage at your new destination.
Trust the professionals – trust us
Communication is the be-all and end-all
26 years ago, we started to develop an employee event for our customers under the title "Fox Party". The basic idea back then was to take away our customers' employees' stress levels and motivate them for their upcoming move.
How does a "Fox Party" work? – Definitely with a good attitude!
Gathering of all those responsible for the move
A warm welcome from your project manager
Explanation of the process of the relocation with every bit of detail
Additional tips & tricks for the forthcoming move
Presentation of the packaging material and cardboard boxes
A round of questions for all participants will be held, no question is unimportant!
Finally, the project manager assures all employees, that if they follow the tips & tricks and implement them, the upcoming move will seem like a nice vacation trip to the south.
BUSINESS RELOCATIONS PROJECTS